Free to download and use for personal use.
You may not copy, edit or sell these images or Files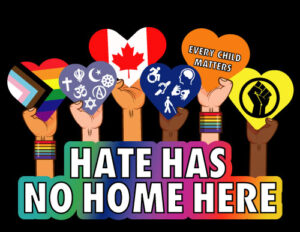 HATE HAS NO HOME HERE SIGN
The download was only available for a limited time in summer 2021. 
It is no longer available.
Message from the artists:
Thanks to everyone who has spread the message in your communities!
If a small group of women from our community can start this conversation, imagine what is possible!


We are grateful to have been able to be a part of this movement that Nandhini has started and happy to now be able to call her a friend.


If you're interested in a similar message or sign to continue this movement, we encourage you to seek out other 2SLGBTQIA+, disabled, and/or BIPOC designers and artists to create signs or messages that continue this conversation and connection in your community.